---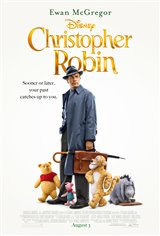 Synopsis
A young Christopher Robin spends his days outside in the Hundred Acre Wood where he embarks on delightful adventures with all his stuffed animal friends – Winnie-the-Pooh, Tigger, Piglet, Roo, Kanga and others. He promises them all he will never forget them, but once he is a grownup, Christopher (
Ewan McGregor
) forgets all about his friends. He becomes an adult who works too much and doesn't make time for his family. Christopher begins to feel like he's lost his way and fears the man he has become.
One day, Winnie-the-Pooh appears to him in a park and requests his help in finding his friends. Although at first he doesn't believe it is actually Pooh, Christopher eventually agrees and finds himself back inside the Hundred Acre Woods again, where he is reunited with all his old pals. After a fun-filled day, Christopher reveals he can't stay and must go home.
Pooh realizes that Christopher is not happy and decides it is their turn to save him and help him find his old, playful and loving self again.