---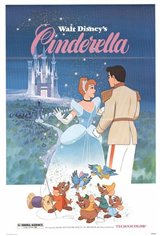 Synopsis
After losing his wife, a widowed aristocrat decides to remarry as he believes his young daughter, Cinderella needs someone to look after her. His new wife Lady Tremaine, who already has two daughters from her previous marriage, reveals her cold and cruel nature after the aristocrat dies. Cinderella's stepmother and stepsisters are jealous of her beauty and charm. They force her to work as a maid.
Meanwhile, the King arranges a ball in the hope of finding a suitable wife for Prince Charming. Every eligible woman in the kingdom is invited to attend. Cinderella asks her stepmother if she can attend the ball, but is instead given extra chores around the house.
Cinderella is disheartened and that is when her fairy godmother appears and gives her a new ball gown and a pair of glass slippers to help make her dreams come true.