---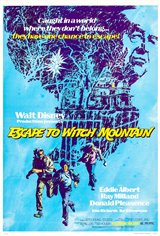 Synopsis
Tia (
Kim Richards
) and Tony Malone (
Ike Eisenmann
) are a brother and sister who don't know their origins. They suffer from amnesia, but are aware that they have psychic powers. They live in an orphanage, but as they slowly piece together their memories, and discover that a greedy business-mogul named Aristotle Bolt (
Ray Milland
) wants to harness their special powers for his benefit, the two go on the run.
They run into a likeable widower named Jason O'Day (Eddie Albert), who is on a camping trip. When he realizes the kids are in danger, he hides them in his trailer. He helps the kids escape to Witch Mountain, where the kids are sure they'll find the answers to their memory problems. 
Based on the book by Alexander Key.