---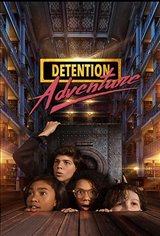 Synopsis
Raign (Simone Miller), Norman, a.k.a. "Hulk" (Jack Fulton) and Joy (Alina Prijono) are three of the best students at Alexander Graham Bell Middle School in Brantford. When an experiment lands them in detention, they're stuck in there with Brett (Tomaso Sanelli), a school troublemaker.
When the kids find a door that leads to tunnels under the school, they team up to find Alexander Graham Bell's secret laboratory. They make sure to get detention every day so they can continue exploring. Underground, they discover puzzles and clues that they hope will lead them to the laboratory.
In the second season, they're joined by a new student, Kelly (Lilly Bartlam), as they search for a treasure.
In the third season, Raign, Hulk, Joy and Brett try to find what a key hidden in a painting leads to, when they're sent to Island School for a getaway to connect with nature.