---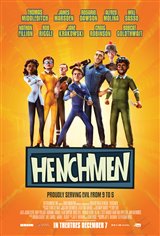 Synopsis
In the animated superhero film
Henchmen
, we are introduced to a world of super-villains, evil schemes and global domination.
Fresh-faced new recruit Lester (Thomas Middleditch) joins the Union of Evil's Henchmen, who are trying to prevent Baron Blackout from dominating the world. He is assigned to a motley crew of third-class blue-collar workers led by fallen henchmen Hank (James Marsden). Together, they guard the Vault of Villainy, but when Lester accidentally steals the super villain's ultimate weapon, Hank must break his risk-nothing code to save the boy he's befriended, even if it means becoming the one thing he has always avoided being: a hero.
Canadian Connection : Produced in Burnaby and Duncan, British Columbia. Screenwriter David Ray and Jay D Waxman are both Canadian, while Nathan Fillion, who provides the voice of Captain Superior, was born and raised in Edmonton, Alberta. Fellow cast member Will Sasso was born and raised in Ladner, British Columbia.