---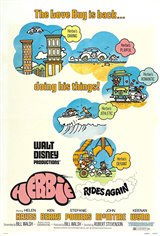 Synopsis
Herbie Rides Again
is the first sequel to Disney's fabulously successful
The Love Bug
.
The emphasis here is on Mrs. Steinmetz (Helen Hayes), a feisty old San Franciscan who refuses to sell her home to conniving developer Alonzo Hawk (Keenan Wynn). Hawk's nephew, lawyer Willoughby Whitfield (Ken Berry), joins Mrs. Steinmetz's camp when he falls in love with her niece Nicole (Stefanie Powers). (This, of course, is after Nicole angrily slaps Willoughby with a boiled lobster, sending him plummeting over a balcony railing and into the drink). The day is saved by Herbie, the almost-human Volkswagen, who rallies every VW in town to thwart Hawk's machinations.
Herbie Rides Again
performed admirably enough to inspire still another sequel,
Herbie Goes to Monte Carlo
.