---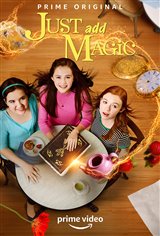 Synopsis
Kelly (Olivia Sanabia), Darbie (Abby Donnelly), and Hannah (Aubrey K. Miller) are best friends who live in the small town of Saffron Falls. Kelly's grandmother (Dee Wallace) has a mysterious illness that's left her unable to talk, so for her birthday, the girls, who love to cook, decide to bake her a cake after they find a mysterious and ancient cookbook in Kelly's attic. 
When they discover that the recipes inside are magic, Kelly wonders if maybe one will cure her grandmother. In order to get the strange ingredients required for some of the recipes, they visit Mama P's (Amy Hill) shop, and because of her extensive knowledge of the ingredients, they realize she must know something about the cookbook.
The three girls find out that they are now the new protectors of the magical cookbook and that the three previous protectors were Kelly's grandmother, Mama P and their strange neighbor, Ms. Silvers (Ellen Karsten). They also discover that Grandma's inability to talk is because she's been cursed, and that the other two previous protectors have been cursed as well: Mama P can't leave Saffron Falls like she wants, and Ms. Silvers, once a talented pianist, can't play the piano in public.
The girls work to destroy the curses and free the older women.