---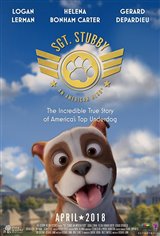 Synopsis
In this animated feature based on a true story, a stray dog who isn't having luck scrounging for food wanders onto a base where American soldiers are training. He's adopted by the men there, in particular soldier Robert Conroy (Logan Lerman), who warms to the dog's personality and devotion.

Named Stubby for his short tail, the dog winds up in the trenches of France, embarking on a historic adventure by his beloved soldier's side. There, he shows extraordinary bravery, helping not only the soldiers, but innocent civilians. 

The first canine ever promoted to the rank of Sergeant in U.S. Army history, Sgt. Stubby shows the world the true meaning of dedication, loyalty and bravery.