---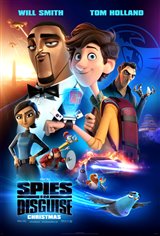 Synopsis
The world's greatest secret agent, Lance Sterling (Will Smith), relies on the high-tech gadgets provided by a selection of inventors. Walter Beckett (Tom Holland), one of these inventors, has come up with a biodynamic concealment serum that can make a person disappear.
When Lance is framed for treason by the villain Killian (Ben Mendelsohn), he goes on the run to find Walter and get him to help. Walter offers him the serum, but in his haste, Lance takes the wrong drink. The one he drinks turns him into a pigeon instead. Although Lance is at first less than impressed about being a bird, with Walter's enthusiasm, Lance soon comes to discover that being a pigeon is a perfect cover for a spy.
Now, this bird and boy team have to outwit the villains as they go on a mission to save the world.