---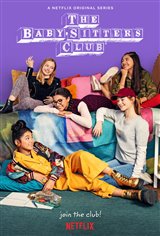 Synopsis
Seventh grader Kristy Thomas (Sophie Grace) decides to set up a baby-sitting club in the town of Stoneybrook, Connecticut with her friend, budding artist Claudia Kishi (Momona Tamada). As they begin to take on jobs, they realize they need more members.
Soon, math prodigy Stacey McGill (Shay Rudolph), shy Mary Anne Spier (Malia Baker), and former Los Angeles native Dawn Schafer (Xochitl Gomez) join the club. Meanwhile, Kristy is dismayed when her mother gets engaged to Watson Brewer (Mark Feuerstein), Stacey is desperate to get a lifeguard to notice her and Mary Anne wants to be less nervous around people she doesn't know. As they struggle to overcome their challenges, the girls become the best of friends.
Based on the best-selling, beloved book series by Ann M. Martin.