---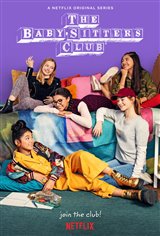 Synopsis
Seventh grader Kristy Thomas (Sophie Grace) decides to set up a baby-sitting club in the town of Stoneybrook, Connecticut with her friends, shy Mary Anne Spier (Malia Baker) and budding artist Claudia Kishi (Momona Tamada). As they begin to take on jobs, they realize they need more members.
Soon, math prodigy Stacey McGill (Shay Rudolph), who moved to town recently, makes friends with the girls and is asked to join. A little while later, Mary Anne meets Dawn Schafer (Xochitl Gomez), whose divorced mother decides to return to Stoneybrook. Although Dawn has grown up in Los Angeles, her bubbly nature soon wins over the other girls and she joins the club as well. Meanwhile, Kristy has to get used to the fact that her mother (Alicia Silverstone) is engaged to Watson Brewer (Mark Feuerstein). Sophisticated Stacey hopes to get a lifeguard to notice her and Mary Anne wants to be less nervous around people she doesn't know. As they struggle to overcome their challenges, the girls realize that their friendships can help them overcome anything.
Based on the best-selling, beloved book series by Ann M. Martin.