---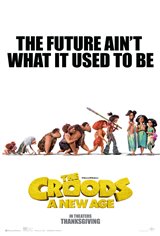 Synopsis
Grug Crood (Nicolas Cage), Ugga Crood (Catherine Keener) and their daughter Eep (Emma Stone) need a new place to live. So, the first prehistoric family sets off into the world in search of a safer place to call home. They discover a walled-in paradise that perfectly meets all their needs, except for one problem. Another family already lives there: the Bettermans — Phil (Peter Dinklage), Hope (Leslie Mann) and their daughter, Dawn (Kelly Marie Tran).

The Bettermans live in an elaborate tree house with amazing inventions and irrigated acres of fresh produce. They're a couple of steps above the Croods on the evolutionary ladder. When they take the Croods in as their houseguests, it isn't long before tensions escalate between the cave family and the modern family.

Just when all seems lost, a new threat propels both families on an epic adventure outside the safety of the wall, one that will force them to embrace their differences, draw strength from each other and forge a future together.