---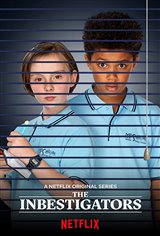 Synopsis
When Maudie Miller (Anna Cooke), 10, arrives at a new school, the other students immediately realize how clever she is when she solves a mystery that not even the teachers could figure out.
Tech-savvy fellow student Ezra Banks (Aston Droomer) decides they should form a detective agency to help locals solve their mysteries. Their friends, talkative and empathetic Ava Andrikides (Abby Bergman) and sports fanatic Kyle Klimson (Jamil Smyth-Secka), complete the group as the young sleuths take on a variety of puzzling cases such as who tampered with a science fair project, who stole a drone and who tampered with a dance group's music.
As Ezra proclaims, "If you're innocent, there's no need to panic."