---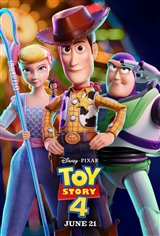 Synopsis
When Bonnie (voice of Madeleine McGraw) goes to Orientation Day for kindergarten, she makes a new toy out of a spork. She calls him Forky (voice of Tony Hale), and feels a special affinity for him because she made him herself.
However, Forky doesn't consider himself a toy, so he keeps trying to jump into the trash. For Bonnie's sake, Woody tries to reason with him, but when Bonnie's family goes on a road trip in the RV, Forky jumps out of the window. Woody goes after him to bring him back and bumps into his old friend Bo Peep (voice of Annie Potts), at a colorful amusement park. While searching for Forky, he also meets a doll named Gabby Gabby (Christina Hendricks), who believes no one wants her because her voice box is broken.
Canadian Connection : The new Canadian character Duke Caboom, voiced by Canadian-born actor Keanu Reeves, is introduced in this movie.